Give the gift of gorgeous shapewear this festive season with ShapewearUSA offering a wide range of stunning shapewear styles to suit and flatter every figure. Whether your loved one is an expecting mom, bride-to-be, daughter or sister, you will find a shapewear gift for every woman in this Holiday Gift Guide. Uncover our top shapewear solutions designed to create wow effect this season.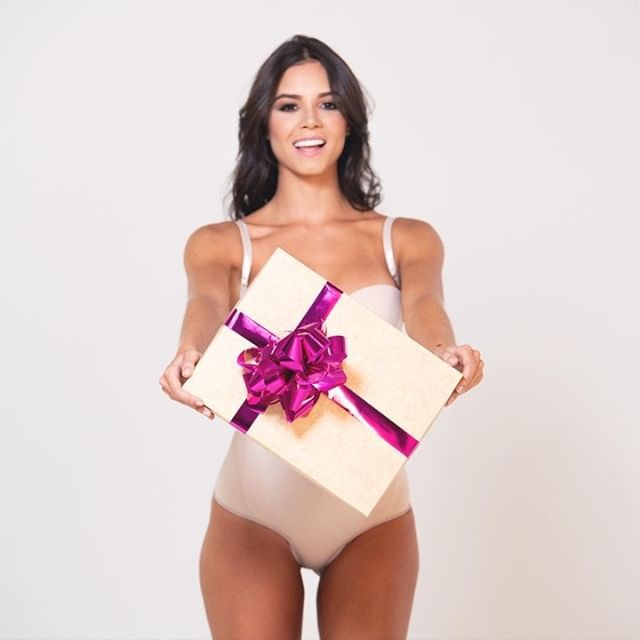 For all over control we choose our top selling Co'Coon Full Body Thermal styles hat presents double purpose garment that not only sculpts and shapes your body, but also helps to improve the skin elasticity and appearance.
The secret weapon to shed inches quickly. The latex panel on the stomach activates

 body heat increasing perspiration in the area to help sweat those extra inches off and eliminate toxins. The cotton lining absorbs the perspiration so you can stay fresh and comfortable all day long.

Controls waist, abdomen, and back. The Capri pant shapes your hips, thighs, and legs and gives your bottom a boost to complete the fashionable figure you have always dreamed of.
Shapes hips, thighs, and legs

Latex panel activates body heat

Cotton lined for your comfort

Adjustable straps

Invisible under clothes

Lifts breasts and buttocks

Open gusset for your convenience
For tummy control, we recommend two seamless microfiber styles from Cysm that create a perfect hourglass figure and help 
burn calories faster and more efficiently.

Strapless Thermal Full Body Shaper takes quicker and easier to the goal-silhouette, using a compressive medium-control design and an internal thermal-active layer, which even during low-intensity physical activity help you burn calories faster and more efficiently!
●  The sleek and smooth area makes all clothing fit perfectly, while the garment's excellent skin breathability makes it feel like a lightweight second skin!
● With invisible control bands placed in key areas, the body shaper flattens your abdomen and enhances your midsection, while lifting the butt.
● For increased comfort, necessary in the daily use of a shapewear garment, the body shaper has a crotch-area hook closure, an under-bust anti-slip silicone band, and additional handles for extra safety.
● The superior tummy-control features will put muffin-tops, love handles and back rolls in the past, giving you the chance to rediscover your love of curve-hugging outfits!
!
For butt-lifting, we picked Equilibrium booty boosting styles that provide a perfect rounded form and fit the abdominal area.
Support the post-op recovering process after cosmetic surgery like liposuction or tummy tuck. Shapes and reduces the back, waist, tummy, hips and thighs. Two layers in abdominal area for strength. External seams that not mark your skin. Internal lined for freshness and comfort. Front closure with two positions, ideal when swelling reduction and weight loss.
Molded in the rear zone to provide better booty boosting with a natural look.

Shaping band around the buttocks that provides a perfect rounded form.

No padded, whole effect is achieved by the mould and smart cuts.

Fits the low abdominal area.
Browse our selections of maternity shapewear garments selections for during pregnancy. Includes high waist shapers, body shapers, plus size shapers, belly bands and abdominal belts. For moms-to-be, we picked 
MeMoi Cradle Maternity Support Shaper and Annette Soft & Seamless Pregnancy Panty that help maintain the form and function throughout pregnancy.

Cradle helps maintain the form and function throughout pregnancy. In addition to the breathable slimming, this piece is cut specifically to provide room and support for a growing baby bump, which may help take some stress off of the back and hips. Targeted compression lends definition to Mom's body without inhibiting baby's growth.
Unique design provides extra support to the belly

Comfortable and soft to the touch

94% Cotton, 6% Spandex

Fits true to size   

Fabric expands as belly grows
For slimming hips and thighs choose 
Euroskins Adult Non-Run Footless Tights and Clearpoint Medical Below-Knee Body Girdle that control abdomen, waist, hips and thighs while remaining soft and smooth to prevent discomfort and irritation.

For immediate post-operative wear Side zippers with hook & eye cotton guard tape. Micropower mesh (breathable) fabric 3" wide waistband. Abdominal inner panels. Grip lace trim. Recommended for lower abdominal, hip, thigh and knee procedures.

Superior Quality Ultra Soft Microfiber

Manufactured with an Innovative

Three-Dimensional (3D) Process

Seamless Breathable Gusset

Remarkable Elasticity - Retains Fit

Versatile - Can Be Worn As Low Waist

Long Lasting Run and Snag Resistant

Woven Microfiber Waist Band

Eliminates Visible Lines

No Irritating Elastic

Waist Bands Utmost Comfort, Fit, and Performance

Light smoothing support